Editor's note: We are publishing Col Patty Klop's story to reinforce the importance of speaking openly about PTSD and other mental health issues and to encourage veterans to ask for help. For information about resources available to veterans, visit: https://www.mca-marines.org/blog/resource/resources-for-veteran-marines/
My name is Patty Klop. I have post-traumatic stress disorder (PTSD), and I am not ashamed. I am a wife, mother, sister, and a colonel in the U.S. Marine Corps Reserve. Following seven weeks of PTSD treatment in March of 2022, I received the most precious gift of my life—the empowerment to live life with joy and contentment.
As much as I prefer the privacy of my personal and professional life, especially since I am still serving in the Marine Corps Reserve, I am taking a tremendous risk by sharing my PTSD story. However, the worst thing I can do is to keep this gift to myself. Assuming the risk of being transparent and vulnerable as a senior Marine Corps officer, I feel it is my obligation to my sisters and brothers-in-arms to share this incredible gift as encouragement and possible inspiration.
In April 2006, I returned from a seven-month deployment to Iraq (Ramadi and Fallujah) in support of Operation Iraqi Freedom. I had a hard time adjusting to post-deployment life. Reflecting back during this difficult period, I now realize I was experiencing PTSD symptoms. The uncontrollable rage and angry outbursts were shocking and damaging to my family. I had never acted like that before.
Through Military One Source, I was referred to a counselor who assessed my symptoms of agitation, sleep disturbance, low energy, depressed mood, and ir­ri­ta­bility. At this point in my life, I was un­married and had no children.
From May to October 2009, I deployed as the officer in charge of Personnel Re­trieval and Processing (PRP) De­tach­ment, also known as mortuary af­fairs, to Camp Bastion, Helmand Province, Afghanistan, in support of Operation Endur­ing Free­dom. As the first Marine Corps mortuary affairs unit to deploy to Afghanistan, we were assigned the daunt­ing task of establishing the first Marine Corps Unit Collection Point. As a PRP team, we provided care in handling and preparing human remains for evacuation and sub­sequent repatriation to next of kin. This was an emotionally fatiguing job with repeated traumatizing experiences.
When I returned home from Af­ghan­istan, I anticipated having the best year of my life with my recent promotion to lieutenant colonel, getting married, and surviving a combat deployment. I thought my exposure to a war-torn and under-developed country and the conditions of how the Afghan people lived would remind me of how good I have it as an American and to live life to the fullest. I thought I would see life through a perpetual optimistic lens, enjoying life for all its worth and embracing each precious moment.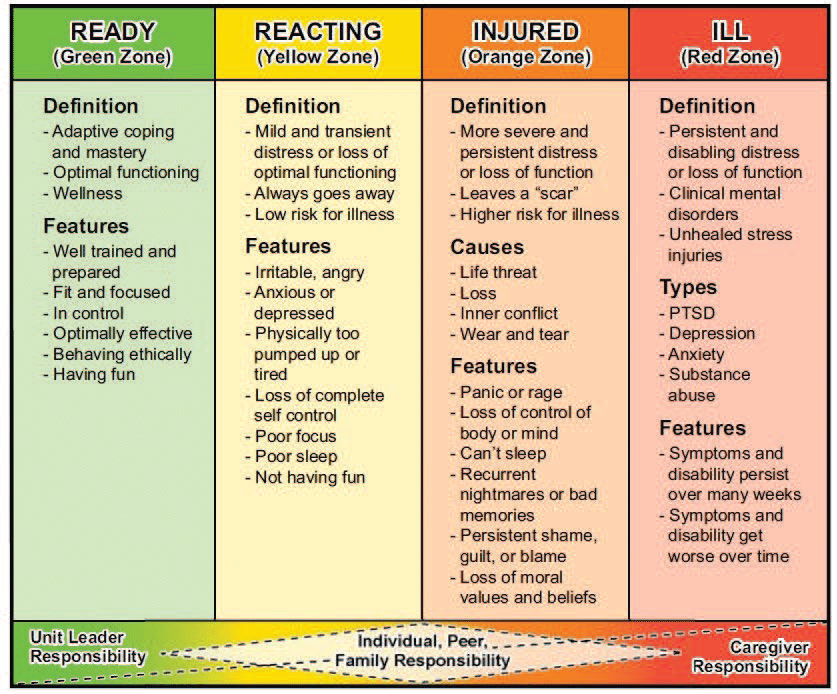 On the contrary, I had one of the worst years of my life, as my emotions, es­pecial­ly anger, were out of control. The first six months of marriage was tur­bulent. I was irritable, easily agitated at the slightest annoyance, and extremely jumpy. My husband and I attended mar­riage counseling funded by Military One Source. I did not think my marriage was going to make it.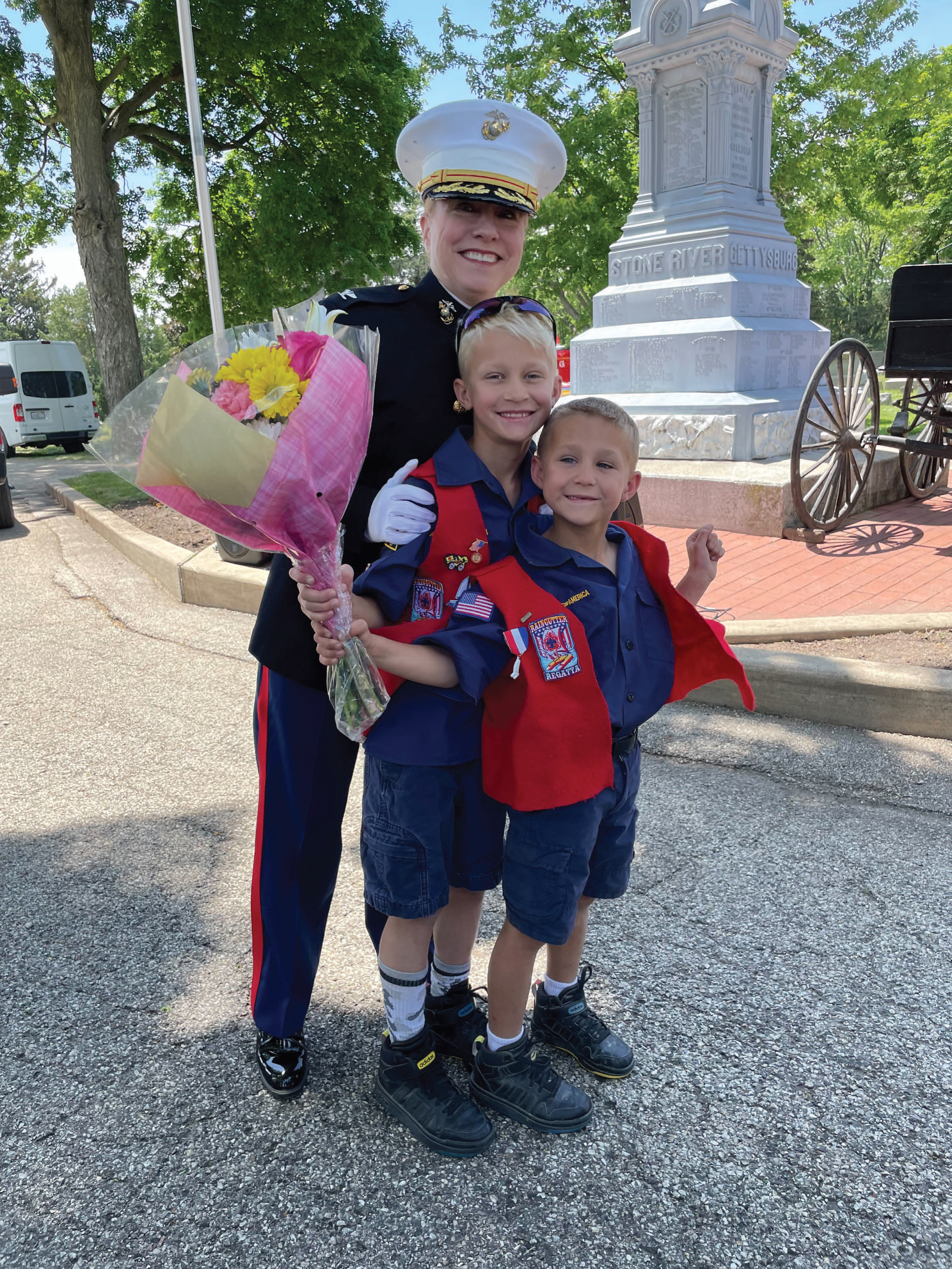 Col Patty Klop with her two sons. Courtesy of Col Patty Klop, USMCR.At this time, my PTSD symptoms were extremely severe with anxiety, agitation, anger, depressed mood, low energy/chronic fatigue, irritability, impatience, hypervigilance (extreme sensitivity to my environment's noises, temperature, and activities), trouble sleeping coupled with haunting nightmares, loss of interest in activities that I used to enjoy, and feeling like my skin was crawling. I was not aware I had PTSD until our marriage counselor shared her insight about my symptoms.
Our counselor referred me to a psy­chiatrist who prescribed me anti-anxiety medication. I was reluctant to take pre­scriptions as I felt I reached an all-time low by taking medication for my mental health. I was a senior Marine Corps Offi­cer. I should have control over my emotions and behaviors.
During the summer of 2010, I re­mem­bered vividly the moment I knew my prescription medication had taken effect. I was painting the spare bedroom, and I honestly felt my irritability and tension lifting and departing from my body. I finally felt relief and a calmness I had not experienced since I returned from Afghanistan. I instantly knew my experience of relief and calmness was the therapeutic effects of my prescription medication. I now knew that prescription medication was appropriate in my time of need.
In the military, and especially in the Marine Corps, I believe there is a stigma in admitting mental health problems and that pursuing treatment may be perceived as being weak. There is an expectation in the military to handle problems on one's own.
I was fully aware of this stigma and that pursuing mental health treatment was counter-culture to the Marine Corps, especially as a senior officer. I was will­ing to take this risk because I needed help. I was not the same person when I returned from Afghanistan. My PTSD symptoms were progressively spin­ning out of control and negatively impacting my marriage.
According to the Stress Continuum Model on the Marine Forces Reserve website, I felt like I was living in the "yellow zone" of reacting while slipping forward and backward between the yellow zone and the orange zone. Just give me a lame excuse to advance into the orange zone and I pounce! I like to blame my hot-tempered Irish, fighting spirit as an excuse for my behavior. To be honest, I would like nothing more than to be confrontational, close the gap between me and my offender, and give them a piece of my mind after only the slightest provocation.
I also felt I was unworthy to receive PTSD treatment because I did not think I was qualified in meeting the criteria. I had a false impression that I needed to be an extremely burned-out combat veteran with severe and debilitating PTSD about to hit skid row to be admitted to inpatient PTSD treatment.
On the contrary, to successfully receive intense PTSD therapy, the veteran must be functional to a degree that enables him or her to be fully present, engaged and to participate in the process of individual counseling and group sessions as well as completing writing assignments.
When I finally checked in to the inpatient facility, I was still shell shocked from life and eager to get the help I desperately needed. When I arrived, all of my doubts that I was not worthy of PTSD treatment, that I did not meet the criteria of PTSD treatment, and that I should not take a seat reserved for another combat veteran, vanished instantly.
After a couple of days, I knew with every fiber of my being that I was in the right place. The PTSD treatment deeply resonated with me because it was exactly the relief that I was looking for. I was able to unpack the burdens of my PTSD, disarm them and hit the reset button on my life. It felt like God sent his best guardian angels to my flanks to pull me out of my pit of PTSD hell. My disposition slowly improved from dark ominous stormy clouds to clear blue skies.
Initially, I struggled with baring my soul about my traumatic combat exper­iences to a civilian who never served in the military a day in her life. As combat veterans, I sense we have a common men­tality that only another combat veteran will understand us, which is true to an extent. Outside of therapy and a few close military comrades, I would certainly never share my combat experiences with anyone.
My therapist did not serve in the mil­itary. However, she was an expert in trauma and was unequivocally the best therapist I encountered after 16 years and more than 10 therapists. She may not have served in the military or in a combat zone but certainly understood my trauma and helped me navigate to a healthier state of mind.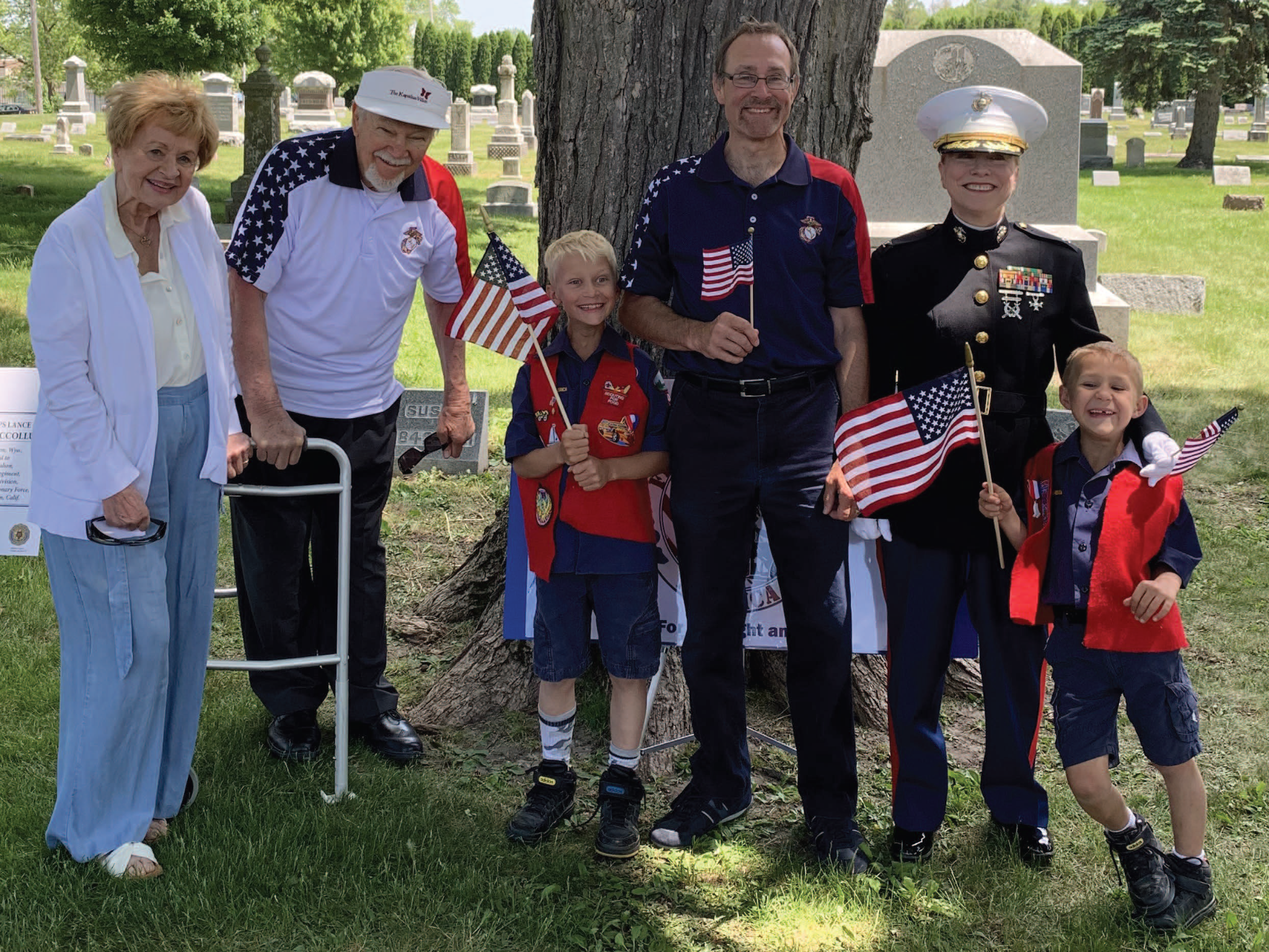 If I was stuck in a mentality that my therapist's credibility and qualifications were as a combat veteran rather than a specialist in trauma, I would regret in missing out on her expertise. My narrow mindset would have truly prevented me from fully embracing the healing power of my PTSD treatment.
What I Experienced in PTSD Treatment
PTSD treatment was like a sanctuary for warriors to begin the healing process from the invisible wounds of combat trauma, which is what I desperately longed for the last 16 years of my life. The Cognitive Processing Therapy (CPT) is a self-discovery process of identifying thought patterns, emotions and behaviors that were weighing me down from living my best life. I was immersed in a safe and nurturing environment where I was fully accepted without condemnation or shame of myself, my PTSD diagnosis or my past.
What I Did Not Experience in PTSD Treatment
I did not experience a lecture or an un­ending infomercial of how screwed up I was. I honestly felt like damaged goods but not once did I receive unsolicited advice about how I was doing life wrong, or how bad and destructive my behavior was, or how out of control I was in being a wife and a mother. Not once did I receive condemnation, shame or disapproval for my PTSD diagnosis.
Instead, I was guided in a self-discovery process of exploring my thought patterns, which were challenged and rewritten towards a healthier baseline. Thoughts lead to feelings, feelings lead to actions, and actions lead to results. Everything begins with thoughts, which are produced by the mind. The mind is a battlefield!
What I learned in PTSD Treatment
I approached my health holistically: mental, social, physical, and spiritual health. The mind, body and spirit are con­nected. The best metaphor to describe wellness is imagining the four legs of a table. Each leg represents a major component of health, to include physi­cal, mental, social, and spiritual.
If one leg of the table is too long, then I am spending excessive time in that component of health, such as physical exercise. If one leg of the table is too short, then I am neglecting that component of health, such as my spiritual fitness. The legs of my table must be equal in length in order for me to reap the benefits of optimal health. If the legs of my table are not equal in length, then my foundation is wobbly.
If I stand on my wobbly table, there is a propensity for accidents and injuries that could have been prevented. My table is my foundation for life, especially in the daily grind; therefore, my table must be leveled to create a strong base and prevent the perpetual accidents and injuries that life throws at me.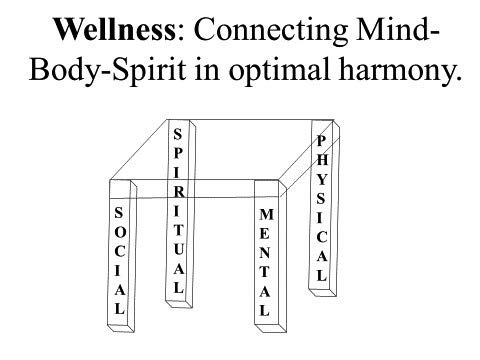 Exercise serves a purpose for my physi­cal and mental health. Exercise is my personal medicine for my PTSD symp­toms, as it is a natural elixir to remedy anxiety, depression and stress with no negative side effects that medications may have. I definitely experience a pos­itive change in my mood when I exercise. Conversely, I definitely experience ir­ri­tability when I do not exercise.
Due to feeling chronically tired all the time and trying to lose a few pounds, I also pursued whole food, plant-based nutrition, as the health benefits are pro­found in achieving optimal health, pre­venting diseases and managing weight.
Health is one of the most important pre­dictors of happiness. When it comes to health, my motto is "pay now or pay later." In other words, there's no success­ful procrastination option in taking care of your health. If you take care of your health today, you are preventing avoidable chronic health diseases. If you take care of your health tomorrow, you are reacting to avoidable chronic health diseases. Investing in my physical health was one of the best decisions I ever made, and I will never regret it.
Author's note: This article is dedicated to my loving family and to the amazing staff at the VA Fort Thomas Division Trauma Recovery Center, Fort Thomas, Ky. I owe a debt of gratitude to this facility for giving me the most precious and invaluable gift that I have ever received in my life, which was the empowerment to live life with joy and contentment. My eternal gratitude!
Editor's note: The appearance of U.S. Department of Defense visual information does not imply or constitute DOD endorsement. The views presented are strictly of the author and do not represent official policy positions nor imply endorsements by the U.S. Department of Defense or any of its military services.