Battle Study Package: Wilson's Creek
The Trans-Mississippi Theatre of the American Civil War Begins
HISTORICAL SIGNIFICANCE
The Battle of Wilson's Creek was the first major battle of the American Civil War to be fought in the Trans-Mississippi. The battle allowed the Confederates to maintain control of southwest Missouri during this stage of the war, consequently allowing the Confederate commander, MajGen Sterling Price, to seize the initiative and advance on Lexington Missouri.
TACTICAL IMPORTANCE
Originally, Missouri tried to remain neutral in the American Civil War, creating its own Missouri State Guard (a pro-Southern entity commanded by Price) to enforce neutrality. However, their relationship with the Unionist and Federal forces quickly deteriorated, with Federal forces under Gen Nathaniel Lyon securing Springfield Missouri as well as the state capital of Jefferson City—thus driving the Missouri State Guard and the Missouri government-in-exile toward the southwest corner of the state. Reinforced by units from the Arkansas state militia under Gen Benjamin McCulloch, Gen Price gathered his forces for an advance on Springfield. Wishing to defeat the Confederate forces before they advanced on Springfield, Gen Lyon ambushed the Southern forces about 12 miles from Springfield near Wilson's Creek. Although Gen Lyon's force of slightly under 5,500 men was greatly outnumbered by the combined force of over 12,000 Confederates, he decided to divide his forces into two sections and attack with a pincer movement with 2/3 of his force attacking from the North while the remainder under Col Franz Siegel attacked from the South.
On the morning of 10 August 1861, Lyon's main force surprised and pushed Confederate forces encamped near a ridgeline north of Wilson's Creek (later named Bloody Hill). However, Confederate forces commanded by Gen Price rallied and prevented Gen Lyon's troops from continuing their assaults. A series of Confederate counterattacks failed to dislodge the Union forces atop Bloody Hill. On the southern end of the battlefield near Sharp's Farm, Gen Seigel achieved initial success, routing Confederate cavalry units. Gen McCulloch managed to rally his men and counterattack against Gen Seigel's flank—overwhelming the Union forces and forcing them to leave behind several cannons. With the southern portion of his pincer movement broken, Gen Lyon tried to advance his troops for another counterattack, only to be killed in the process. Command of the Union forces then fell to Maj Samuel Sturgis. Realizing that his men were fatigued, low on ammunition, and greatly outnumber, Maj Sturgis ordered a retreat back toward Springfield. Confederate forces, themselves exhausted and disorganized, failed to maintain pursuit. Casualties on both sides were comparable, with 1,300 suffered by the Union forces compared to over 1,200 Confederates.
STRATEGIC IMPACT
The Battle of Wilson's Creek thwarted Union attempts to evict Confederate forces from Missouri during the Summer of 1861. Unable to quickly follow up their victory, Confederate forces under Gen Sterling Price regrouped and advanced toward Lexington, beginning a siege that lasted only a week before Union forces surrendered on 20 September 1861.
Map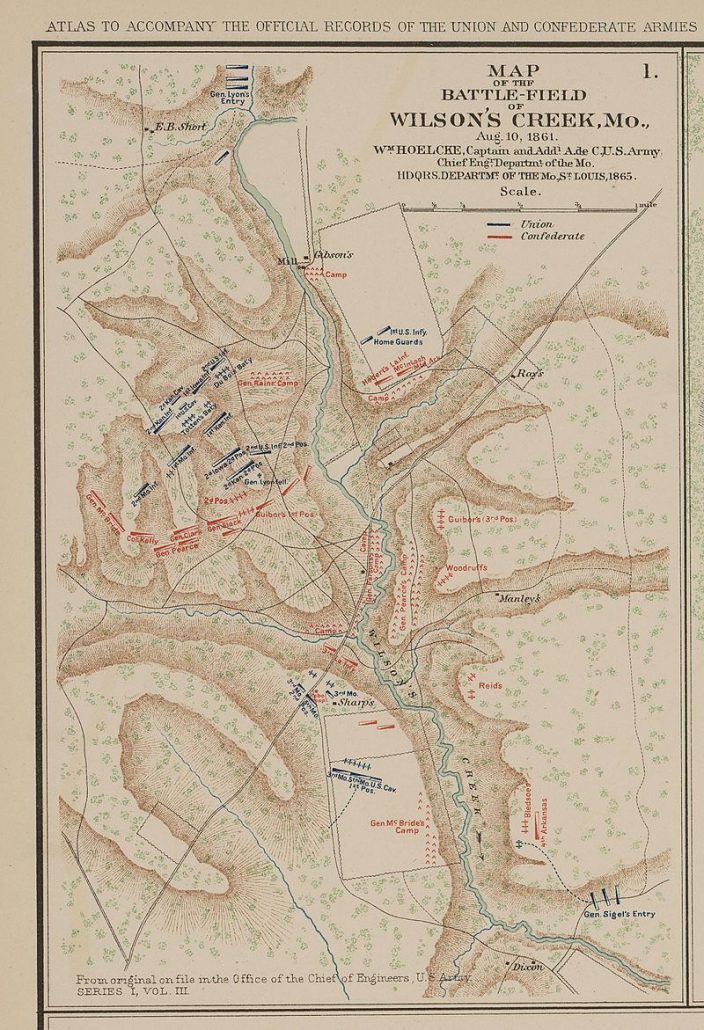 Study Guide
Podcasts
Books
Videos
Testimonials
"I fear the day is lost."
-General Lyon
"The severest battle since Waterloo."
-Unidentified survivor of the battle