2023 Virtual Challenges
Our new immersive and historical experience – A Run through Marine Corps History: WWII Pacific Campaign Challenge consists of five events where each event will consist of a run, a WOD or a combination of both. You will follow a Marine's journey across the Pacific during WWII starting with boot camp at Parris Island, SC before going on to Guadalcanal, Tarawa, Peleliu and Okinawa.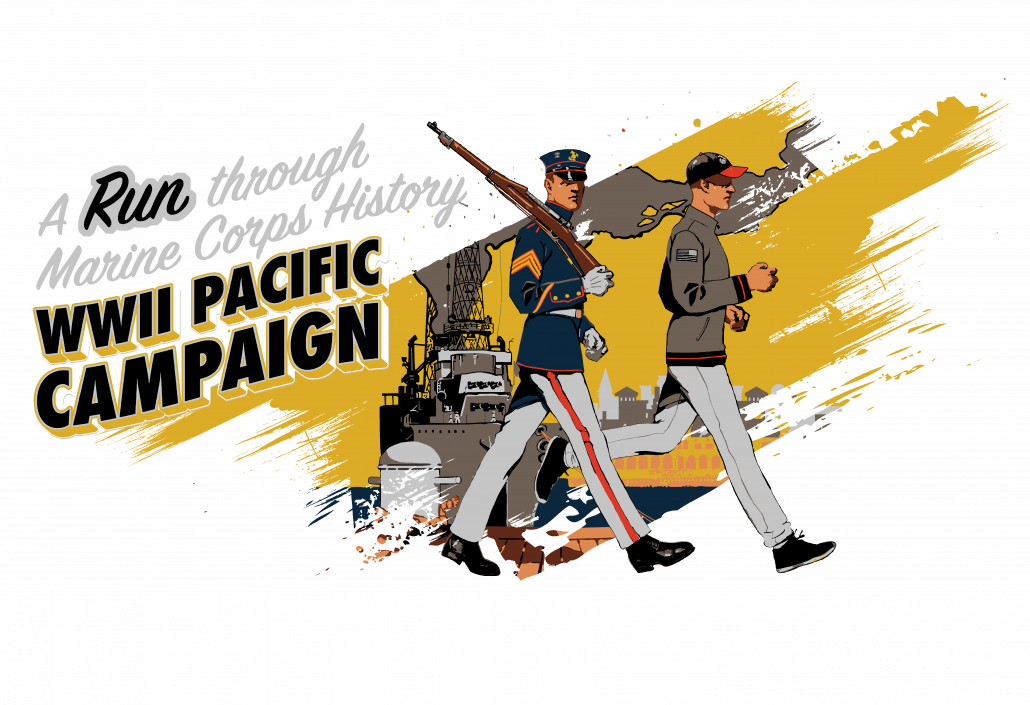 While you follow this journey, you'll be getting some great exercise and be able to learn interesting items from the Corps' history. We're excited that you are joining us in these challenges and supporting Today's Marines!
We recommend you sign up for and complete each challenge sequentially.  Follow the battles the same way the Marines crossed the Pacific in WWII: Guadalcanal, Tarawa, Peleliu, Okinawa.  Sign up for one, complete it, and then move on to the next assault, Marine!
Join and complete all five of these challenges and receive our WWII Pacific Campaign medal.
---
The virtual events/challenges are intended to be accomplished as described on the My Virtual Mission site, but we understand that some of you may have physical limitations that prevent you from accomplishing all portions of the challenges. Don't let that stop you from participating. Each challenge/event has great Marine Corps history through the interactive platform, so sign up and complete them in the manner that is best for you (for example, maybe using a rowing machine or biking instead of running).
If you use a fitness tracker you can link it to My Virtual Mission and your progress should be captured, but if you cannot complete a particular challenge or a portion of it (for example, one particular exercise in a workout of the day) then just enter your completion manually.
We want all participants to reach each milestone so you can unlock the interesting history and stories, so accomplish the mission by any means necessary! Improvise, adapt, overcome!
If you have any questions, contact the Foundation at mcaf@mca-marines.org.
---
Click on the individual run logo below to register for that run/challenge