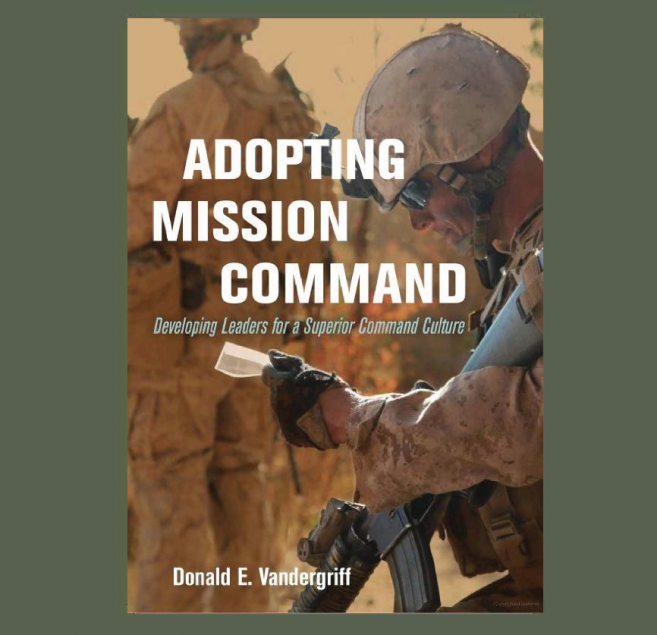 Call to Action: Adopting Mission Command
Posted on: March 13,2020

Here is an excellent book about the imperative for forces engaged in land operations (the "close combat" elements of US Army and the Marine Corps) to adopt and institutionalize Mission Command. The author, Donald E. Vandergriff, provides detailed explanations of the Mission Command Philosophy, defined by the Army as "the exercise of authority and direction by the commander using mission orders to enable disciplined initiative within commander's intent to empower agile adaptive leaders…"
Indeed, the Principles of Mission Command are wholly consistent with the Corps' maneuver warfare warfighting philosophy:
Build cohesive teams through mutual trust.
Create shared understanding
Provide a clear commander's intent
Exercise disciplined initiative.
Use mission orders.
Accept prudent risk.
Later, the book goes into great detail explaining techniques to incorporate Mission Command into training and education such as Tactical Decision Games, and force-on-force exercises. Are these "excursions" into the application of Mission Command in unit training effective and useful?
Related Posts
Reviewed by Maj Skip Crawley ADOPTING MISSION COMMAND: DEVELOPING LEADERS FOR A SUPERIOR COMMAND CULTURE. By Donald E. Vandergriff.
Read More
by Major Ryan Pallas "The goal of a true teacher is to prepare the student to be a better problem solver than the teacher." -Generaloberst von
Read More